Book Details
Japanese at a Glance : Phrase Book & Dictionary for Travelers (4TH)

Published Date : 2006/11

Binding : Paperback

ISBN : 9780764135552

BookWeb Price : US$8.99
Kinokuniya Member price : US$8.09


Availability Status :

Out of stock. We will check the availability of the item with the publisher. Usually ships from our U.S. depot within 12-15 working days from time of order if the item is in stock. Your account will only be charged upon delivery.
Language : Japanese

Book Description
Source: JPN
Academic Descriptors: A20524800
Place of Publication: United States
Continuations: Monograph Series,any number
Academic Level: Extracurricular
Review:
CLS Opening Day Collections Audit-June 2002 (And Ongoing)
Phoenix Public Library Holdings (Internal Code for CLS)


This attractive, illustrated Japanese phrasebook for travelers has been updated and re-designed. Perfect as a take-along guide for visitors to the Far East, it features city maps, information on public transportation systems, general information for visitors to Japan, and bilingual lists of more than 1,500 most-often-used words and expressions for travelers, in the form of phonetic spellings of Japanese words with their English translations. The book's page edges are color-coded by topic for quick reference.
Customers Who Bought This Item Also Bought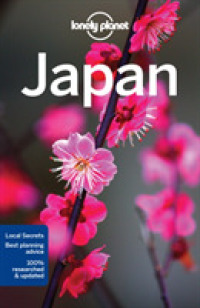 Lonely Planet Japan (Lone
...
By
Milner, Rebecca/ Bartlett, Ray/ Bender, Andrew/ McLachlan, Craig/ Morg
US$29.99
for Kinokuniya Member:
US$26.99

WEEKLY BESTSELLERS Under same category
Trombley, George/ Takenaka, Yukari (CON)

Ashby, Janet (EDT)/ Murakami, Haruki/ Sakai, Junko/ Kakuta, Mitsuyo/ Y