Book Details
A Naturalist's Guide to the Birds of Malaysia : Including Sabah and Sarawak (Reprint)

Published Date : 2013/09

Binding : Paperback

ISBN : 9781906780852

BookWeb Price : S$ 24.95
Kinokuniya Privilege Card member price : S$ 22.46


Availability Status :

In stock at the Fulfillment Centre.
Usually dispatches within 5 working days.
Language : English

Stock Information
Store
Shelf Location
Click here
Stock
Singapore Main Store
G13-01, G07-01, G07-02
Map
Liang Court Store
-
Bugis Junction Store
-
Important

While every attempt has been made to ensure stock availability, occasionally we do run out of stock at our stores.
Retail store and online prices may vary.
To confirm availability and pricing, please call the store directly.

Retail Store Contact Details and Operating Hours
Book Description
Source: ENG
Academic Descriptors: A63704062 A63704056
Place of Publication: United States
Continuations: Monograph Series,any number
Academic Level: Extracurricular
Geographic Designator: South and Southeast Asia


High quality photographs from some of Malaysia's top nature photographers are accompanied by detailed species descriptions which include nomenclature, length, plumage, distribution, habits and habitat. The user-friendly introduction covers climate, vegetation, biogeography, opportunities for naturalists and the main sites for viewing the listed species. Also included is an all-important checklist of all of the birds of Malaysia encompassing, for each species, its common and scientific names as well as Malay names, its status in each state as well as its global status.
Customers Who Bought This Item Also Bought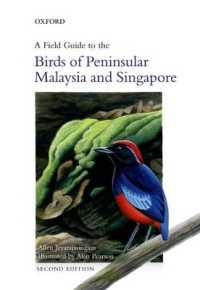 A Field Guide to the Bird
...
By
Jeyarajasingam, Allen/ Pearson, Alan (ILT)
S$ 68.94
for KPC member:
S$ 62.05

WEEKLY BESTSELLERS Under same category
Ding Li, Yong/ Kim Chuah, Lim/ Tiah Khee, Lee (PHT)

Kirschner, Manuela/ Bergbauer, Matthias

Shepherd, Chris R./ Shepherd, Loretta Ann

Henderson, Caspar/ Moghaddas, Golbanou