Book Details
Marvel Avengers the Ultimate Character Guide -- Hardback

Published Date : 2010/10

Binding : Hardcover

ISBN : 9781405356947

BookWeb Price : MYR 56.57
Kinokuniya Privilege Card member price : MYR 50.91


Availability Status :

Available for order from suppliers.
Usually dispatches within 3 weeks.

Customers Who Bought This Item Also Bought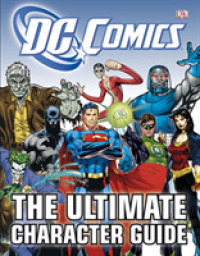 Dc Comics Ultimate Charac
...
By
MYR 56.57
for KPC member:
MYR 50.91
Delivery during Christmas & New Year Holidays

Due to the Christmas and New Year holiday, BookWeb orders will take a longer delivery time. Please take this into consideration when placing your online orders. Thank you.



WEEKLY BESTSELLERS Under same category
Baker, Matt/ Kamen, Jack/ Herman, Daniel (COR)/ Messick, Dale (COR)/ S