ABOUT US
Kinokuniya, a renowned international bookshop chain from Japan, established AsianBasis Sdn Bhd in Malaysia as the online retail arm of Books Kinokuniya group.
AsianBasis Sdn Bhd has taken over the control and operations of BookWeb Malaysia, Kinokuniya's online bookshop, from Kinokuniya Book Stores (Malaysia) Sdn Bhd with effect from 2nd July 2014. This is to enable greater resources, more services, networking and facilities to serve existing BookWeb members.
The company's obligations to you remain unchanged and our level of service to you is expected to be enhanced at no additional cost.
You will see improvements sometime soon.
---
ABOUT KINOKUNIYA MALAYSIA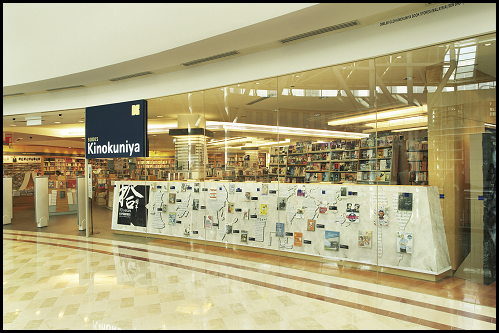 Kinokuniya Malaysia offers the largest range of books with over 300,000 titles in English, Japanese, Chinese and Malay. We are located at Kuala Lumpur City Centre (KLCC) , an international shopping destination and a landmark of Kuala Lumpur.
At Kinokuniya, we are dedicated to being a haven for bibliophiles, as we focus on bringing our customers the best books publishing has to offer. Our range is extensive, including adult and children's literature, graphic novels, art and design books, social sciences, performing arts, and lifestyle titles. We carry and promote an extensive selection of Malay books, while our Chinese books and magazines are sourced from both Taiwan and mainland China. Another thing that makes us unique is our Japanese section, which carries not only the latest Japanese bestsellers, but also an interesting selection of manga, art and craft titles, idol photo books, magazines, catalogues, e-Mooks, and more.
Our spacious and tranquil bookish environment, with an abundance of natural light with a full view of the KLCC Park, enhances the browsing experience. We have friendly, informative staffs who could help you find your way around the store. To complete the experience is the Coffee Club Express at our Mezzanine floor that offers a space for you to wind down with aromatic coffee and take in the ambience of the store.
We are also into creating a store that promotes the arts. Arts and photography exhibitions are held from time to time in the store at the Mezzanine floor where our Arts and Design sphere is located.
We have a sales office located in the bookstore to service business and academic institutions.
25% discount on featured titles from October 1st - November 14th 2014, or while stocks last.



asian literature
The Lives of Others
Neel Mukherjee

The Lives of Others narrates the story of the ageing patriarch and matriarch of the Ghosh family, set in 1960s Calcutta. They preside over their large household, consisting of five adult children and their respective children. Each set of family members occupy a floor of the home, in accordance to their standing within the family. From the outside, the Ghosh family may seem as one united front, but on the inside, that fragile image threatens to shatter against buried rage, hatred and jealousy. Amidst their internal wars, the eldest grandchild Supratik leaves home to join an extremist political activist group – an action that further catalyzes the decay of their family. Shortlisted for the 2014 Man Booker Prize, Neel Mukherjee delivers a powerful epic of family and nation.

fantasy
A Stranger in Olondria
Sofia Samatar

"What I knew, what I learned, was the map of a heart, of the longings of Lunre of Bain: I walked in the forests of his desire and bathed in the sea of his dreams." Growing up in the Tea Islands, Jevick of Tyom was obsessed with the stories of Olondria, where his tutor Lunre came from. When presented with the opportunity to finally travel to Olondria, he did so; living in the land he had previously only dreamed about. But then he became haunted by the ghost of a woman from his homeland, sending him amidst a conflict between two factions fighting for control over the written word. Winner of the 2014 British Fantasy Award, Sofia Samatar's first novel both question the value of the written word over the oral tradition, and how our respective cultures shape our way of thinking.

literature
The Bookman's Tale 9780143125389/ 9781846883026
Charlie Lovett

Peter Byerly, a young antiquarian bookseller, immerses himself in his trade to overcome his grief over the loss of his wife Amanda. Relocating from North Carolina to an English countryside, he returns to work where he hopes to rediscover the joys of life through his passion for collecting and restoring rare books. But when he opens an 18th century study on Shakespeare forgeries, he discovers a Victorian miniature portrait of a woman who bears an uncanny resemblance to his wife. And so begins an obsessive hunt to find the origins of this painting. As he follows the trail back to the 19th century, and to Shakespeare's time, Peter learns the truth about his own past, and unearths a book that might prove the truth about the Bard's real identity.

manga
Takasugi-san's Obento Vol.1
Nozomi Yanahara

Takasugi Harumi is a 31-year-old underachiever working part-time to support himself, despite having a PhD in Geography. His days were carefree, if dull - until he finds out that his estranged aunt had passed away, leaving him with the care of her painfully shy 12-year-old daughter, Kururi.  Between his haplessness and desire to be a good guardian, and her being a target to the school bullies, both of them have a lot to work on, especially as the only thing they had in common was their memory of Miya's (Harumi's aunt and Kururi's mother) cooking. Takasugi-san's Obento is more of a heart-warming slice-of-life than a food manga, but food remains a prevalent theme, showing how it has the power to bring people together.

current affairs
Dirty Wars: the World is a Battlefield
Jeremy Scahill

The recent beheading of 2 American journalists in Syria is more or less an indirect result of the American government imposing actions in their combat on terrorism and their foreign policy in the Middle East. Ever since 9/11, America no longer accord to the Geneva Convention rules of fighting uniformed enemies and national militaries. Those days are replaced by night raids, secret prisons, cruise missile attacks and drone strikes. Jeremy Scahill's Dirty Wars tells us these horrible stories that were never reported on prime news. Through this book, we meet al Qaeda figures in Yemen, US backed warlords in Somalia, CIA spies in Pakistan and Special Operations commandos tasked with hunting down people deemed to be enemies of America. Through his brave reporting, the true nature of America's wars across the globe is exposed.

business
Driving Honda 9780670920563/ 9781591844730
Jeffrey Rothfeder

As Soichiro Honda said, "Success can be achieved only through repeated failure and introspection. In fact, success represents one percent of your work, which results only from the ninety-nine percent that is called failure." Learn the Honda story from this readable book that reveals how Honda became one of the world's iconic automakers and engine manufacturer by adapting their Honda way.

science
The Good Psychopath's Guide to Success
Kevin Dutton/ Andy McNab

Here comes a unique book that is a guide to success. Unlike from other self-help books, this book shows you success via the psychopath way. You don't need to own a chain saw to cut through your success because this book will guide you to become a good psychopath in order to succeed in your life. Drawing from cutting-edge psychology labs and Special Forces tips from one of the British Army's most famous soldiers, you learn why 8pm is the best time to sell insurance and why taking a cold shower might help you to get a raise. Be a good psychopath today.

art & design reference
Design Fundamentals: Notes on Color Theory
Rose Gonnella (author) & Max Friedman (illustrator)

We are surrounded by colours - yes. Ever wonder what their stories are? Do not be stressed by the word 'theory' as this is some fun notes that clarify (1)what is colour; (2)how it works and (3)its relation to us. Sounds boring? Not really. The concept of colour is not only discussed in written words but it is also demonstrated through entertaining illustrations. Besides, there are suggested exercises and projects for you to experiment and play with colours. Above being an indispensible reference book for all design students, it is also a pleasant read for anyone who is interested in the subject.

music
Infographic Guide to Music
Graham Betts

Infographic Guide to Music presents unique, witty and surprising facts about every music genre, from pop, rock, indie, house, dance, electronic, rap, country and classical. Mixing musical stats with facts on all your favourite leading legends, it features infamous and often ludicrous tales of the music business. More than just a book of words, with graphs, Venn diagrams and charts, this book provides a unique overview of the music world, boasting over 100 original artworks and illustrations and at-a-glance facts to amaze and astound readers. (text courtesy of Cassell Illustrated)

hobbies & crafts
Little Fixes
Disney Powless

We all have favourite pieces of clothing that we never want to throw out despite the fact that they become so used and even too small to wear. What about our kids? They, too have their much-loved tees and dresses, and not only that – kids tend to attract dirt, spills and tears, let alone out-growing their clothes before you can budget for the next wardrobe shopping trip! Turn to this handy book for clever ideas to make your kid's wardrobe last longer by reusing, repurposing and restyling before you decide to cut them up for the rag-bag.

young adult
Since You've Been Gone
Morgan Matson

Emily spent most of her life in her best friend Sloane's shadow. She defines herself by their friendship - she is the more reserved of the two, while Sloan is outspoken and captivating. The two are never apart, and Emily is looking forward to spending the summer together when Sloan disappears. She leaves Emily with nothing but a list of tasks, ranging from picking apples at night to kissing a stranger. Hoping that they would bring her closer to Sloan, she dedicates her summer to completing them, finding new experiences and meeting new people along the way. An unconventional, but addictive read depicting how friendships evolve and change, and a girl getting to know who she is outside of that friendship, Since You've Been Gone is the kind of book readers would fall completely in love with.

children's non-fiction
The Animal Book : A Collection of the Fastest, Fiercest, Toughest, Cleverest, Shyest--and Most Surprising--animals on Earth

Steve Jenkins


Steve Jenkins' books have always been beautiful beyond reality. Utilising collage (cut and torn paper), his animals remain realistic and detailed. Beyond his artwork though, it is actually his ideas of how non-fiction can be presented differently, playfully and interestingly that makes his work stand out. A book on animal eyes; or deep sea animals; or the fastest/biggest/strongest; and even one of tails and the uses – these are only a few among his wide range of titles. Yet, nothing can beat The Animal Book for its sheer comprehensiveness, beauty and fun.

懸疑小說

控制
Gillian Flynn

這是一個披著懸疑小說外衣的愛情故事。

本書作者以尖銳筆鋒和深沉算計,重新詮釋當代男女關係,創作出改寫暢銷排行紀錄的年度風雲小說,結局驚人震撼。愛不愛,都要佩服得五體投地

請問世間男女,想要永遠在一起,重要的是愛情還是麵包?答案是「控制」。從谷歌的搜尋字眼,讓巨量資料說話吧。

科學

大數據


Viktor Mayer-Schonberger, Kenneth Cukier

從谷歌的搜尋字眼,讓巨量資料說話吧。


在這本書裡,清晰曉暢的解釋了巨量資料是什麼,它將如何改變我們的生活,對經濟、社會和科學會帶來什麼影響,我們又能夠做些什麼,趕搭上這波新潮流,同時也懂得保護自己,避免個人資料和隱私受到侵害。

繪本
永遠愛你


Robert Munsch

 

無論養兒育女的過程如何辛苦,每到夜晚,媽媽總是在孩子睡著時,輕輕的把他摟在懷裏,輕輕的唱著... ...我永遠愛你,我永遠疼你,在媽媽的心裡,你是我永遠的寶貝。

漫畫
幸福麵包屋(全)


田中つかさ, 大和田聡子

 

且看一個平凡家庭主婦如何克服萬難成為麵包屋老闆!

手芸

結城寿美江

冷蔵・冷凍保存でムダなし! おべんとうにも使えるタイムスケジュール付き! 1週間×4セット 1か月分を収録! 週末たった2時間で作れる! 1週間分のおかずレシピ

手芸

香田あおい

すっきり見える"に的をしぼったデザインは、着てみたいと思わせる説得力がある。さらにそれを手作りするためのシンプルなソーイングの技と親切な解説がこの本にはたくさん盛り込まれている。

graphic

セブンスドラゴン2020&2020-2visual collection

ファミ通編集部

職業キャラクター、ストーリーキャラクター、モンスターなど『セブンスドラゴン2020』、『セブンスドラゴン2020‐2』に登場するビジュアルを余すことなく掲載。キャラクターデザイン三輪士郎氏のインタビューもお見逃しなく。

児童書

ヨシタケシンスケ

哲学?妄想?発想力?かんがえる頭があれば、世の中は果てしなくおもしろい。ヨシタケシンスケの発想えほん。 



WEEKLY BESTSELLERS English Books
Dr. Anwar Fazal/ Dr. Aizzat/ Dr. Azah