Bookish Pursuits | Let's Read Aloud
by Husnah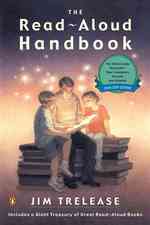 When I first began to read aloud to my eldest child, I needed a book that gives pointers on, and emphasises the importance of reading aloud. Luckily, I found two books – Jim Trealese's The Read-Aloud Handbook and Mem Fox's Reading Magic: Why Reading Aloud to Our Children Will Change Their Lives Forever. In the former, Jim Trealese explains why it is important for children to grow up as readers, and how we as parents can help to accomplish this. Every chapter of the book – even the introduction – is very edifying. I still remember one of the arguments on whether reading should be the responsibility of parents or teachers. Since children spend more time outside the school, it should be the parents' responsibility. And we, as parents, can play a huge role not only by reading to our kids, but also making sure that they have access to books at home, and being a model to them by being readers ourselves.
In Reading Magic, Mem Fox guides us on how to get the most value and joy out of a read-aloud session. With passion and humour, she explains when and where to read aloud, and demonstrates with examples that are easy to follow. She also discusses the secrets of reading and offers guidance on defining and choosing good books. As a parent, I want my children to love books, and I want them to become an avid reader. These two books help me discover the pleasures of reading aloud, and helped me start my children on their journey to becoming lifelong readers. I hope they would help you, too!
Gems of the Month | May 2013
25% discount on featured titles from May 1st - 31st, or while stocks last.
asian literature

The Accidental Apprentice
Vikas Swarup

Sapna Sinha is an ordinary salesgirl in an electronics store in downtown Delhi. She hates her job, but she is ambitious and determined to succeed – she knows that her family can't survive without the money she earns. Her life changes the instant when she meets Vinay Mohan Acharya, one of Indian's richest men. He offers her the position of CEO in his company if she passes seven tests of life. As things fall apart at home, Sapna finds herself with no choice but to take up on his offer, and begins the most challenging journey of her life, testing her resolve, courage and dignity. But is there a darker intent behind Acharya's "tests of life"? The Accidental Apprentice is another brilliant read by Vikas Swarup, the author who achieved global success with his novel Q & A, also known as Slumdog Millionaire.

literature

The Crane Wife
Patrick Ness

Once upon a time, a man woke up after hearing a strange noise, and discovered an injured crane. Being the good sort, he nursed the crane back to health and set it free. That was how the Japanese folklore "Tsuru no Ongaeshi" began, and how award-winning author Patrick Ness heard it as a child. The fact that it is a story that began with an act of kindness struck a chord with him, and followed him into adulthood, when he finally wrote his own version of the story. This is a story of love born out of kindness, of the love one stumbles upon and the love one grows, of how love is affected by greed, and of the loneliness that all of us hold inside, despite everything. Magical and funny, it does what it claims the best works of art do – it moves the reader, and it breathes.

fiction

Redshirts
John Scalzi

Star Trek fans know who the "redshirts" are. They are the expendables, the ones who are usually ranked "Ensign", and don the red uniform. In Away Missions, visiting strange new planets, at least one of these redshirts always die horribly – just so we know the situation is serious. Poking fun at this trope, Scalzi's novel feature the crew members of the Universal Union flagship, who may earn a lot, but do not have a long life expectancy. That is, until they began comparing notes. Realising that there is a "Narrative" that would dictate their missions (and ultimate doom), they decide to band together and go against what's written in their supposed future. Nominated for this year's Hugo Awards for Best Novel, this novel is a somewhat meta-fictional, and very satiric take on the TV series, but those unfamiliar with the source will still delight in Scalzi's wicked humour and mind-bending ideas. As Joe Hill had said, "read on and prosper."

business

Decisive
Chip & Dan Heath

Most of us make decisions under a glaring spotlight, blinded by the question and unable to see clearly around us. We're overconfident, seeking information that support our decisions, ignoring the ones that do not and are easily distracted by short-term emotions – resulting in bad decisions. In Decisive, the Heath brothers introduce a four step process to counteract these biases. Along the way, you learn to consider multiple options to view the "shape" of the problem and learn not to predict something when you can know or test. This book will not only make you a bit better at making good decisions as well as make the good decisions a bit more decisively.

culture

Wired For Culture
Mark Pagel

This book adds another theory into the definition of our behaviours in cultural practices and experiences. It is an interesting testimony on how evolution is one of the contributions in the theories of culture, besides sociology and anthropology. Well written and engaging, it allows us to better understand ourselves and society in general by looking at our progress so far, and how some of our past actions have evolved to influence our behaviours today. You will be absorbed by it because it is very much about reading the human nature.

psychology

The Other Side of Normal
Jordan Smoller

In 2001, when the World Health Organization (WHO) catalogued the leading causes of chronic disability worldwide for young adults, four of the top five slots were psychiatric disorders: depression (#1), alcoholism (#2), schizophrenia(#3) and bipolar disorder (#5). Walk with Smoller to the other side of normal –from autism to depression – and learn that the best way to draw a line between the boundaries of mental disorder or health is by understanding the psychology and biology of normal.

architecture

Twenty Minutes in Manhattan
Michael Sorkin

The idea of taking a leisure stroll along familiar streets to find hints of fascination offered by the town or city may sound absurd; hence many details go unnoticed under one's nose on daily basis, but not to Sorkin, the architect. Through his meticulous observation from building structures such as the stairs, the stoop to the tenement blocks, city square and beyond, we see and understand the relations of urban planning to the growth of humanity. And what does Manhattan have to do with us? It does, simply because humanity starts from a piece of land, the base which is wisely (or carelessly) engineered to be home to a growing human race. Furthermore, this book holds deeper meaning to all those who care about the future of the city.

performing arts

The Ordinary Acrobat
Duncan Wall

The circus, to a general audience, can be full of captivating wonder and mystery; it also can appear fearsome for some. However, if you love this form of performance, you are bound to love Wall and his extraordinary story of circus – its fascinating history and renaissance as a contemporary art form, particularly in France. Sometimes scary and often hilarious, The Ordinary Acrobat promises a delightful read about the excitement and pleasure of the circus ring!

health & well-being

The Immune System Recovery Plan
Susan Blum, M.D.

If there's a book that everyone needs to be read right now, this would be it. Not so long ago, chronic illnesses like lupus, hyperthyroidism, celiac disease or rheumatoid arthritis were unknown, yet today there's a possibility that you may know someone with such a condition. Susan Blum shares her personal and professional experience on what is now one of the most prevalent and steadily growing epidemics in the world today – auto-immune diseases. A category that covers around a hundred different diseases, she explains that although these illnesses are triggered differently and have different symptoms, they are essentially due our immune system's breakdown. In five parts, Blum demystifies auto-immune diseases, and introduces functional and preventive ways to return to health.

young adult

It's Our Prom (So Deal With It)
Julie Anne Peters
Tessa Masterson Will Go to Prom
Emily Franklin & Brendan Halpin

We've seen the movies, and read the books – we know that the prom is one of the major experiences of the American teen. It's when the guy finally gets the girl, the geek takes a stab at being prom royalty, and is the beginning of many "happily ever afters". But what if you can't afford to go to the traditional prom, with all its trappings – expensive dresses and tuxes, corsages, the limo and prom ticket? What if everyone said you can't go, because they disapprove of your date? What if you can't find a date? What if the person you love is your best friend – and in love with someone else? What if you're not even interested in going? These two books explore the other side of prom, with extra charm: characters you want to root for, a good mix of humour and angst, romance, and the most important of all, (best) friendship.

children's picture book

Dream Friends
You Byun

Melody has an enchanting and very dear friend who plays with her all the time and gives her nice things. They fly across the skies and play hide-and-seek in the forest - all in her dreams. Melody doesn't need friends in real-life as she has her one dream friend. Or does she? Making friends is difficult, perhaps more so if you're a child. Since every child has a different disposition, there is only so much that a parent or caregiver can do to help. This lovely book allows the adult to share a few stories to comfort a lonely child who may be in a new school or environment.
Alejandro G. Roemmers

你希望小王子長大嗎?這本書中的小王子成為少年了。少年有少年的憂鬱和煩惱,但他依然像天上的星星般,閃耀著純粹又持久的光芒。。。




這是一本維妙維肖的「續集」,一種詩情畫意的「應和」。

David Wilcock

對於你身在的世界,你從沒有懷疑過嗎?它,也許不是真的? 「源場」,才是我們的來處,也是終將回歸的地方。




生命本身就是奇蹟,因為它擁有一個與「上帝」溝通的管道…

這隻麋鹿是我的!
Oliver Jeffers

當小威第一次在路上碰見麋鹿,他就決定:「這是我的寵物!」小威列了「好寵物守則100條」,麋鹿似乎乖乖遵守。




但當別人也覺得自己是麋鹿的主人時,小威該怎麼辦呢?

影子籃球員公式漫迷手冊 CHARACTERS BIBLE 角色聖經 全


藤卷忠俊

本書總共分為4個章節,收錄了包括影子籃球員所有角色的完全研究,奇蹟世代的秘密、各種不同主題的排行榜,個性診斷心理測驗,經典比賽回顧。




最後還收錄了「影子籃球員」的短篇以及新作番外篇!
graphic

TVアニメモ-レツ宇宙海賊コンプリ-トチャ-ト
一迅社

総勢61名のスタッフ・キャストによるインタビュー&コメント。海賊船から銃火器まで紹介メカニックガイド。電子戦を分かりやすく図解。TV版『モーパイ』の総復習はこれでバッチリ!版権イラストギャラリー/キャラクター&ストーリーガイド。

graphic

原田たけひと複雑なセカイ
原田たけひと

『魔界戦記ディスガイア』シリーズデザイナー原田たけひと個人画集第二弾。

文芸

共食い
金沢伸明

神城高校2年A組の生徒たちは、担任教師の高尾七海への復讐を計画した。 しかし"自殺未遂のふりをしてビビらせるだけ"のはずだった生徒の宮田が死体で見つかる。 それは、クラスという水槽で飼われている生徒たちによる"共食い"の始まりの合図だった。 『王様ゲーム』を超える最新サバイバルホラー。

児童書

クレプスリ-伝説  ダレン・シャン前史 3
ダレン・シャン/訳:橋本恵

はたして、クレプスリーの運命はどうダレン・シャンへとつながるのか。死を決意したクレプスリーがたどり着いたのは、バンパイア一族のにとって幻の宮殿だった。そのときクレプスリーが下した決断がその後のかれの運命を大きく左右したのだった。出会い、決別、再会、うらぎり、家族、恋人・・・。クレプスリーの人生を大きくうごかすできごとが、つぎつぎを起こる。