OPENING HOURS

Monday  10am - 7pm

Tuesday  10am - 7pm

Wednesday  10am - 7pm

Thursday  10am - 10pm

Friday  10am - 7pm

Saturday  10am - 7pm

Sunday  11am - 6pm

 

 






Book Details
The Hobbit (Illustrated)

Published Date : 2008/04

Binding : Paperback

ISBN : 9780007270613

BookWeb Price : A$ 19.98
Kinokuniya Card Member Price : A$ 17.98


Availability Status :

Our fulfillment centre has the item in stock.
Usually dispatches within 3 working days.

Stock Information
Store
Shelf Location
Click here
Stock
Sydney
D09-06, D08-04, A04-04
Map
Important

While every attempt has been made to ensure stock availability, occasionally we do run out of stock at our stores.
Retail store and online prices may vary.
To confirm availability and pricing, please call the store directly.

Retail Store Contact Details and Operating Hours
Book Description

Read the classic edition of Bilbo Baggins' adventures in Middle-earth. Featuring more than 60 colour paintings and pencil drawings by the award-winning artist, Alan Lee, Conceptual Designer on Peter Jackson's THE HOBBIT: AN UNEXPECTED JOURNEY. Bilbo Baggins is a hobbit who enjoys a comfortable, unambitious life, rarely travelling further than the pantry of his hobbit-hole in Bag End. But his contentment is disturbed when the wizard, Gandalf, and a company of thirteen dwarves arrive on his doorstep one day to whisk him away on an unexpected journey 'there and back again'. They have a plot to raid the treasure hoard of Smaug the Magnificent, a large and very dangerous dragon...The prelude to The Lord of the Rings, The Hobbit has sold many millions of copies since its publication in 1937, establishing itself as one of the most beloved and influential books of the twentieth century. It is now available in a smart new package, and is illustrated throughout in gorgeous watercolour and delicate pencil by Alan Lee, Conceptual Artist for Peter Jackson's films, THE HOBBIT: AN UNEXPECTED JOURNEY and THE HOBBIT: THERE AND BACK AGAIN.
Customers Who Bought This Item Also Bought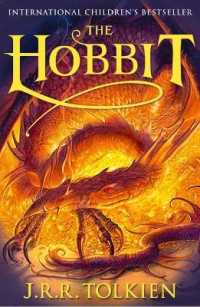 A$ 18.89
for KC member:
A$ 17.00

WEEKLY BESTSELLERS Under same category