詳細
Improv Sewing : 101 Fast, Fun, and Fearless Projects

出版年月 : 2012/05

Binding : Paperback

ISBN : 9781603427401

BookWeb価格 : AED 86.00


在庫情報 :

フルフィルメント・センターに在庫があります。
通常、3日以内に発送いたします。
言語 : English

Stock Information
Store
Shelf Location
Click here
Stock
Dubai
R19-03, R20-03, R15-03
Map
Important

While every attempt has been made to ensure stock availability, occasionally we do run out of stock at our stores.
Retail store and online prices may vary.
To confirm availability and pricing, please call the store directly.

Retail Store Contact Details and Operating Hours
内容情報
Source: ENG
Academic Descriptors: A97602736
Place of Publication: United States
Subject Development: Techniques
Academic Level: Extracurricular
Review:
Booklist Reviews 2012 April #2
NextReads Home, Garden, and DIY 2012 September
LJ Reviews 2012 April #2
PW Reviews 2012 March #1
School-Never-Out-Of-Stock Program 2007 (And Ongoing)


The project designs reflect the clean lines and simple aesthetic of today's young sewing enthusiasts and include snazzy wearables, accessories, clothing for babies and children, and even home decor and furnishings. Most feature embellishments and decorative effects - simple touches that personalise a project with charm - and nearly all make use of appealing textural fabrics like jersey knits, linen, wool, and felt...even paper and vinyl! Blum and Immergut walk readers through the sewing basics, demystify the lost art of simple pattern-making, offer visual guides to stitches, and offer easy instructions for techniques such as applique, doodle-stitching, and layering of fabrics. Even the most time pressed readers will be able to stitch together modern, personalised, and beautiful projects...fuss-free and in a flash!
この本を買った人はこんな本も買っています。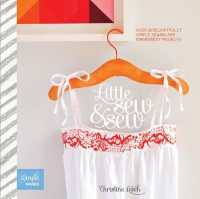 Little Sew and Sew : Over
...
AED 85.00

Roberts, Kat/ Sillars- Powell, Tessa