詳細
Content Rules : How to Create Killer Blogs, Podcasts, Videos, E-Books, Webinars (and More) That Engage Customers and Ignite Your Business (The New Rul (REV UPD)

出版年月 : 2012/05

Binding : Paperback

ISBN : 9781118232606

BookWeb価格 : AED 86.00


在庫情報 :

フルフィルメント・センターに在庫があります。
通常、3日以内に発送いたします。
言語 : English

Stock Information
Store
Shelf Location
Click here
Stock
Dubai
C12-01, C12-02, C12-03
Map
Important

While every attempt has been made to ensure stock availability, occasionally we do run out of stock at our stores.
Retail store and online prices may vary.
To confirm availability and pricing, please call the store directly.

Retail Store Contact Details and Operating Hours
内容情報
Source: ENG
Academic Descriptors: A93663643 A48500000
Place of Publication: United States
Edition: Subsequent
Subject Development: Techniques
Textual Format: Computer Applications
Academic Level: Extracurricular
Review:
Phoenix Public Library Holdings (Internal Code for CLS)

The guide to creating engaging web content and building a loyal following, revised and updated
Blogs, YouTube, Facebook, Twitter, Google+, and other platforms are giving everyone a "voice," including organizations and their customers. So how do you create the stories, videos, and blog posts that cultivate fans, arouse passion for your products or services, and ignite your business? Content Rules equips you for online success as a one-stop source on the art and science of developing content that people care about. This coverage is interwoven with case studies of companies successfully spreading their ideas online and using them to establish credibility and build a loyal customer base.* Find an authentic "voice" and craft bold content that will resonate with prospects and buyers and encourage them to share it with others * Leverage social media and social tools to get your content and ideas distributed as widely as possible * Understand why you are generating content getting to the meat of your message in practical, commonsense language, and defining the goals of your content strategy * Write in a way that powerfully communicates your service, product, or message across various Web mediums * Boost your online presence and engage with customers and prospects like never before with Content Rules.
Contents
Foreword xi
Acknowledgments xv
Big Fat Overview (Sometimes Called an Introduction) xvii
PART ONE THE CONTENT RULES 1
Chapter 1 The Case for Content 3
Chapter 2 The Content Rules 13
Chapter 3 Insight Inspires Originality: Who Do You Want to Attract? 21
Chapter 4 Who Are You? 31
Chapter 5 Reimagine; Don t Recycle: Anatomy of a Content Circle of Life 55
Chapter 6 Share or Solve; Don t Shill 69
Chapter 7 Stoke the Campfire 95
Chapter 8 Create Wings and Roots 101
Chapter 9 The Care and Feeding of Fans 115
Chapter 10 Attention B2B Companies: This Is the Chapter You Are Looking For 121
PART TWO THE HOW-TO SECTION 141
Chapter 11 A Blog as a Hub of Your Online Content 143
Chapter 12 If Webinars Are Awesome Marketing Tools, Why Do Most of Them Suck? 155
Chapter 13 What s the Difference between an E-book and a White Paper? (And When Should You Use Them?) 171
Chapter 14 The Single Biggest Secret to Creating a Compelling Customer Success Story (Formerly Known as a Case Study) 183
Chapter 15 From Dumpy to Sexy: An FAQs Makeover 189
Chapter 16 Video: Show Me a Story 197
Chapter 17 Podcasting: Is This Thing On? 207
Chapter 18 Photographs: The Power of Pictures 211
PART THREE CONTENT THAT CONVERTS: SUCCESS STORIES (WITH IDEAS YOU CAN STEAL!) 219
Chapter 19 Reynolds Golf Academy: 221
Greensboro, Georgia
Chapter 20 The Cool Beans Group: 227
Greensboro, North Carolina
Chapter 21 U.S. Army: Fort Knox, Kentucky; 231
Fort Monroe, Virginia
Chapter 22 AskPatty.com, Inc.: Thousand 235
Oaks, California
Chapter 23 Qvidian: Lowell, Massachusetts 239
Chapter 24 HubSpot: Cambridge, Massachusetts 243
Chapter 25 Kodak: Rochester, New York 251
Chapter 26 Boeing Company: Chicago, Illinois 257
Chapter 27 Indium Corporation: Clinton, New York 263
Chapter 28 PinkStinks: London, England 267
PART FOUR THIS ISN T GOODBYE 271
Chapter 29 This Isn t Goodbye, and a Gift for You 273
About the Illustrator: Sean Tubridy 275
Index 277
この本を買った人はこんな本も買っています。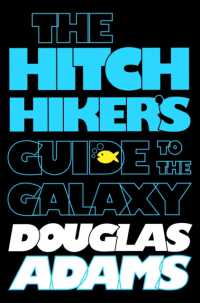 Hitchhiker's Guide to the
...
AED 46.00

Sherman, Aliza/ Elliott Smith, Danielle

Eklund, Fredrik/ Littlefield, Bruce