詳細
1, 2, 3 Sew : Build Your Skills with 33 Simple Sewing Projects

出版年月 : 2011/06

Binding : Paperback

ISBN : 9780811876490

BookWeb価格 : AED 107.00


在庫情報 :

フルフィルメント・センターに在庫があります。
通常、3日以内に発送いたします。
言語 : English

Stock Information
Store
Shelf Location
Click here
Stock
Dubai
N02-01, N02-03, R19-04
Map
Important

While every attempt has been made to ensure stock availability, occasionally we do run out of stock at our stores.
Retail store and online prices may vary.
To confirm availability and pricing, please call the store directly.

Retail Store Contact Details and Operating Hours
内容情報
Source: ENG
Academic Descriptors: A97602736
Place of Publication: United States
Physical Format: Spiral
Subject Development: Techniques
Textual Format: Pictorial Treatment
Academic Level: Extracurricular


1-2-3 Sew takes a building block approach to sewing, making it a cinch for crafters to improve their skills. The projects are presented in groups of three, each one building on the skills and techniques used in the project before. With 36 projects in all (ranging from clothing and accessories to bedding and decor accents), how-to illustrations, 10 pattern pages in a pocket at front, and instructions for various finishing and embellishing techniques, this book is an essential toolbox of sewing basics.
この本を買った人はこんな本も買っています。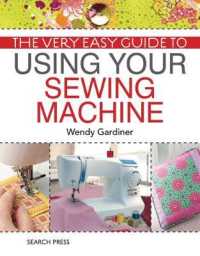 The Very Easy Guide to Us
...
AED 85.00

Martha Stewart Living Magazine (COR)