Book Details
Please Look after Mother -- Paperback

Published Date : 2012/03

Binding : Paperback

ISBN : 9780753828182

BookWeb Price : AED 59.00


Availability Status :

Our fulfillment centre has the item in stock.
Usually dispatches within 3 working days.

Stock Information
Store
Shelf Location
Click here
Stock
Dubai
A27-06, A27-05, A29-05
Map
Important

While every attempt has been made to ensure stock availability, occasionally we do run out of stock at our stores.
Retail store and online prices may vary.
To confirm availability and pricing, please call the store directly.

Retail Store Contact Details and Operating Hours
Book Description

PLEASE LOOK AFTER MOTHER is the story of So-nyo, a wife and mother, who has lived a life of sacrifice and compromise. In the past she suffered a stroke, leaving her vulnerable and often confused. Now, travelling from the Korean countryside to the Seoul of her grown-up children, So-nyo is separated from her husband when the doors close on a packed train. As her children and husband search the streets, they recall So-nyo's life, and all they have left unsaid. Through their piercing voices, we begin to discover the desires, heartaches, and secrets she harboured within. And as the mystery of her disappearance unravels, we uncover a larger mystery, that of all mothers and children: how affection, exasperation, hope and guilt add up to love. Compassionate, redemptive and beautifully written, PLEASE LOOK AFTER MOTHER will reconnect you to the story of your own family, and to the forgotten sacrifices that lie at its heart.
Customers Who Bought This Item Also Bought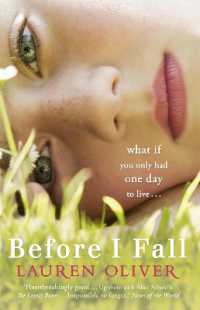 Before I Fall -- Paperbac
...
AED 52.00

WEEKLY BESTSELLERS Under same category