Book Details
Going to School (Usborne First Experiences S.) -- Paperback (New ed)

Published Date : 2005/07

Binding : Paperback

ISBN : 9780746066690

BookWeb Price : AED 16.00


Availability Status :

Our fulfillment centre has the item in stock.
Usually dispatches within 3 working days.

Stock Information
Store
Shelf Location
Click here
Stock
Dubai
R24-04, R24-03, F02-04
Map
Important

While every attempt has been made to ensure stock availability, occasionally we do run out of stock at our stores.
Retail store and online prices may vary.
To confirm availability and pricing, please call the store directly.

Retail Store Contact Details and Operating Hours
Book Description

This book is designed to introduce young children to unfamiliar situations in an amusing and friendly way. It features Stephen Cartwright's delightful illustrations, providing lots to look at and talk about. It provides an ideal starting point for young children and adults to discuss first experiences. Other titles in this series include: "Moving House"; "Going to the Doctor"; and, "Going to the Dentist". See the other books in this series.
Customers Who Bought This Item Also Bought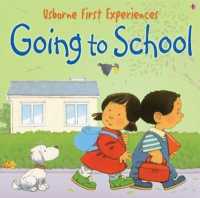 Going to School (Usborne
...
By
Civardi, Anna/ Cartwright, Stephen
AED 33.00

WEEKLY BESTSELLERS Under same category