Book Details
Through the Language Glass: Why the World Looks Different in Other Languages

Published Date : 2011/02

Binding : Paperback

ISBN : 9780099505570

BookWeb Price : AED 59.00


Availability Status :

Our fulfillment centre has the item in stock.
Usually dispatches within 3 working days.

Stock Information
Store
Shelf Location
Click here
Stock
Dubai
R21-04, R22-01, I05-12
Map
Important

While every attempt has been made to ensure stock availability, occasionally we do run out of stock at our stores.
Retail store and online prices may vary.
To confirm availability and pricing, please call the store directly.

Retail Store Contact Details and Operating Hours
Book Description

'Guy Deutscher is that rare beast, an academic who talks good sense about linguistics...he argues in a playful and provocative way, that our mother tongue does indeed affect how we think and, just as important, how we perceive the world' - "Observer". Does language reflect the culture of a society? Is our mother-tongue a lens through which we perceive the world? Can different languages lead their speakers to different thoughts? In "Through the Language Glass", acclaimed author Guy Deutscher will convince you that, contrary to the fashionable academic consensus of today, the answer to all these questions is - yes. A delightful amalgam of cultural history and popular science, this book explores some of the most fascinating and controversial questions about language, culture and the human mind.
Customers Who Bought This Item Also Bought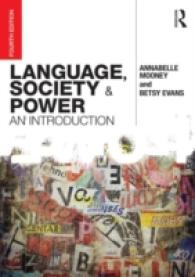 Language, Society and Pow
...
By
Mooney, Annabelle/ Evans, Betsy
AED 143.00

WEEKLY BESTSELLERS Under same category