تفاصيل الكتاب
Lego Star Wars Heroes Ultimate Sticker Book (Ultimate Stickers) -- Paperback

تاريخ الطبع. : 2011/01

Binding : Paperback

رقم الكتاب المتسلسل ( أي أس بي إن) : 9781405364409

مبلغ البوك ويب : AED 33.00


المعلومات المتعلقة في المخزون :

تتواجد الأغراض لدى مركز التزويد التابع لنا . يستغرق الطلب عادة ثلاثة أيام عمل .

Stock Information
Store
Shelf Location
Click here
Stock
Dubai
F07-01, C25-01
Map
Important

While every attempt has been made to ensure stock availability, occasionally we do run out of stock at our stores.
Retail store and online prices may vary.
To confirm availability and pricing, please call the store directly.

Retail Store Contact Details and Operating Hours
شرح تفاصيل الكتاب

Meet the brave and fearless heroes of the LEGO Star Wars Galaxy! Based on the LEGO Heroes this super-sized sticker book is packed with colourful images and easy-peel stickers. This giant collection features more than 250 stickers from the LEGO Star Wars line of toys. Join Anakin, Luke, Han Solo, Yoda and all your favourite Star Wars heroes on their action-packed adventures - you'll find them all in here.
الزبائن الذين قاموا بشراء هذا المنتج ، قاموا أيضا بشراء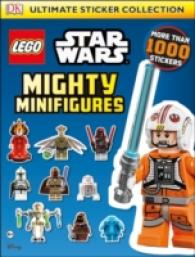 Lego Star Wars Mighty Min
...
عن طريق
AED 52.00

أفضل إصدارات الكتب الإنجليزية ضمن نفس القسم
Glass, Calliope (RTL)/ Disney Storybook Art Team (ILT)/ Monaco, Jake (

Disney Enterprises, Inc. (COR)/ Disney Storybook Artists (ILT)