تفاصيل الكتاب
Hold Me Tight : Your Guide to the Most Successful Approach to Building Loving Relationships -- Paperback

تاريخ الطبع. : 2011/02

Binding : Paperback

رقم الكتاب المتسلسل ( أي أس بي إن) : 9780749955489

مبلغ البوك ويب : AED 91.00


المعلومات المتعلقة في المخزون :

تتواجد الأغراض لدى مركز التزويد التابع لنا . يستغرق الطلب عادة ثلاثة أيام عمل .

Stock Information
Store
Shelf Location
Click here
Stock
Dubai
D13-04, C38-00, D14-01
Map
Important

While every attempt has been made to ensure stock availability, occasionally we do run out of stock at our stores.
Retail store and online prices may vary.
To confirm availability and pricing, please call the store directly.

Retail Store Contact Details and Operating Hours
شرح تفاصيل الكتاب

Developed by Dr Sue Johnson over 20 years ago and practised all over the world, EFT has been heralded by Time magazine and the New York Times as the couple therapy with the highest rate of success. Couples who use EFT see a 75 per cent success rate. The therapy programme focuses on the emotional connection of every relationship by de-escalating conflict, creating a safe emotional connection, and strengthening bonds between partners. In HOLD ME TIGHT, EFT pioneer Dr Sue Johnson presents her highly effective therapy model to the general public for the first time. Through case studies from her practice, illuminating advice and practical exercises, couples will learn how to nurture their relationships and ensure a lifetime of love.
الزبائن الذين قاموا بشراء هذا المنتج ، قاموا أيضا بشراء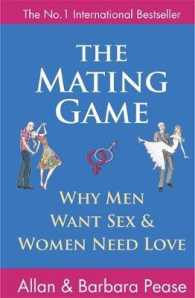 Mating Game : Why Men Wan
...
عن طريق
Pease, Allan/ Pease, Barbara
AED 52.00

أفضل إصدارات الكتب الإنجليزية ضمن نفس القسم